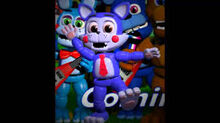 Candy the Cat has made very little appearances in the Fazbear Let's Plays series. He only played Five Nights at Candy's 2's night 8 and has apparently a nightmare form that made a brief appearance when the gang introduced new voice overs. Has recently done a reaction video on his new game, Five Nights at Candy's 3, with Freddy Fazbear. He has a similar voice to Mr. Chipper, both having a lisp. He is starting to make many appearances in other Fazbear lets plays, including FNaF World to get Coffee Machine. Candy, along with The Penguin and Vinnie AKA the Reverse Puppet, are the only FNaC Animatronics to have voices, due to possible copyright issues with Emile, the creator of FNaC.
Adorable as he may be, he is pretty tough. In one video, we find out that Candy kidnapped Freddy for the stupidest reason: to react to the Five Nights at Candy's 2 trailer with him. How he managed to knock out Freddy, get his kidnap past his friends and tie him up is beyond me, but that's past the subject. 
Ad blocker interference detected!
Wikia is a free-to-use site that makes money from advertising. We have a modified experience for viewers using ad blockers

Wikia is not accessible if you've made further modifications. Remove the custom ad blocker rule(s) and the page will load as expected.