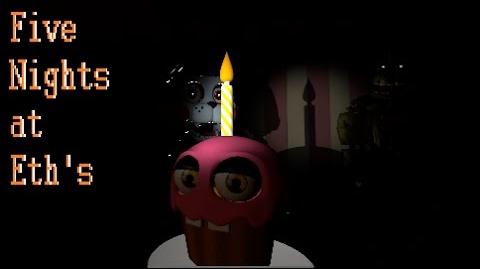 Five Nights at Eth's (FNAE for short) is an upcoming FNAF style video game dedicated to EthGoesBOOM. It is currently under development by a fan named IndigoGamer000 using the same software that the FNAF Series used. The game is going to be released in 2017.
A completed Demo of the game is going to be released on February 28, 2017. Five pre-selected people, including one bonus person, will be able to play the Demo; some will be making videos on the Demo.
Brief Info
Edit
As an alternate ending after the Fazbear Massacre (page needed), Springtrap is locked away in the saferoom, but something goes wrong. Freddy Fazbear's Pizza gets shut down. Afton Robotics ends up shutting down as well due to "production of child abducting robotic designs". The animatronics are bought at an auction by a company known as ESE, and they plan to scrap the robots for factory parts in six days. The animatronics can still be saved, and it's up to the Night Watch to do so before it's too late... all while avoiding the ones that hide in the darkness.
CLASSIFIED (for now...)
This is, as of the moment, the only gameplay video of FN@E that we know of. Site staff will most likely add the other four YouTubers soon enough, trust me.
--Thecoolguy81
Ad blocker interference detected!
Wikia is a free-to-use site that makes money from advertising. We have a modified experience for viewers using ad blockers

Wikia is not accessible if you've made further modifications. Remove the custom ad blocker rule(s) and the page will load as expected.